D Curl 0.07 Thickness (11,12,13 Lengths) CAMELLIA Eyelash Tray
---
D Curl 0.07 Thickness (11,12,13 Lengths) CAMELLIA Eyelash Tray
£14.95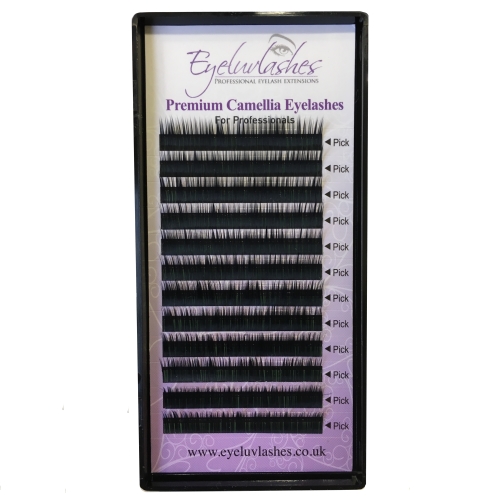 New for 2017 - Camellia Lashes.
Camellia Lashes have staggered lengths, this 11,12,13 lengths tray for example will have lash lengths of 11,12,13,12,11,12,13,12,11 next to each other on each strip. So you have 12 strips of 0.07 Volume Thickness with a blend of 11,12,13 lengths on each and every strip (12 strips in total).
Extremely lightweight and designed to create a more natural feathered/kardashian look. The 3 sizes mimic the different stages of growth natural eyelashes are in at any given time - no ones natural lashes are all the same size so applying extensions in the same manner will give a more more natural look.
Say no to fake looking lashes, and hello to fluffy, textured, natural lashes!

Designed for use with Volume lash work - when picking up fans, you will grab 2 or 3 sizes in each fan! Ideal for 3D,4D,5D application.
Available in J,B,C,CC or D Curls and lengths of 9,10,11 or 11,12,13 (see our other eyelash trays)